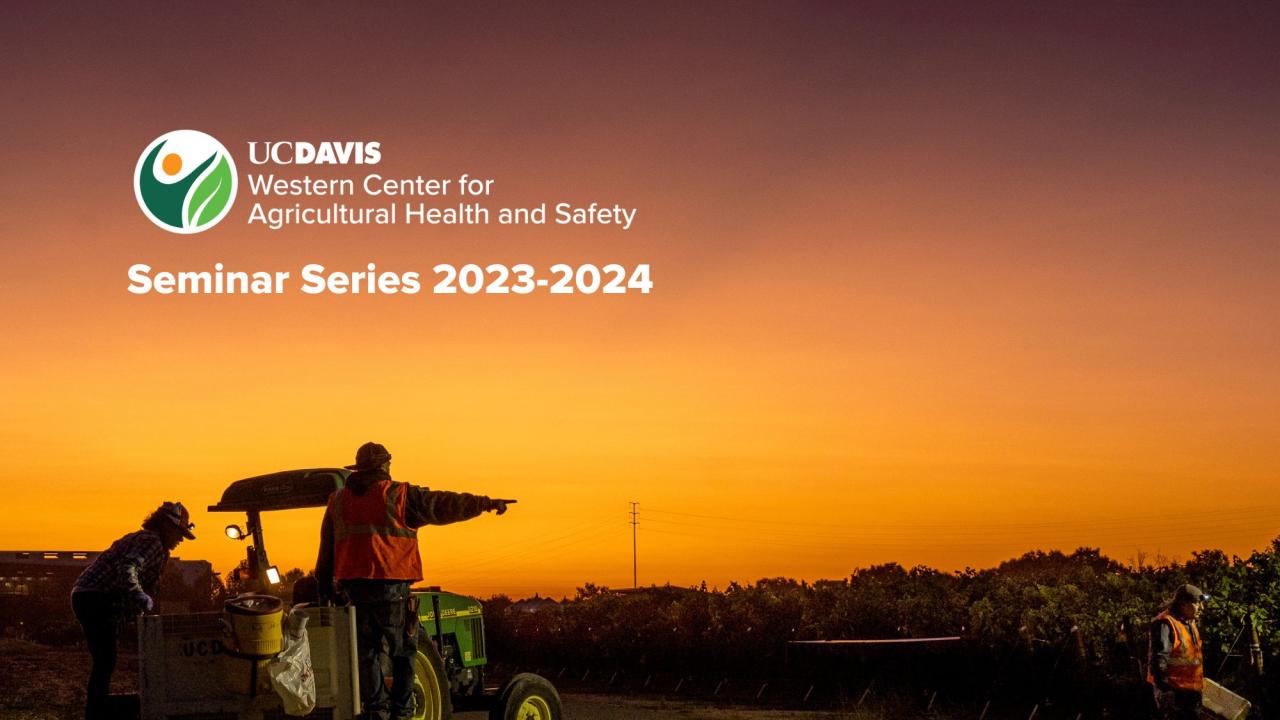 Join us for our monthly seminar series with special guest Dr. Natalia Deeb-Sossa, Professor Chicana/o Studies, University of California, Davis, who will present a talk titled: 
"So-called Essential but Treated as Disposable:" Northern California Farmworkers Working Under COVID-19.
The workplace emerged as a primary site of infectious disease during the COVID-19 pandemic (ongoing), especially in occupations having little to no social distancing and potential for remote work. The pandemic had a huge impact on the physical and mental health of farmworkers and it showed the labor-market inequities in the US exacerbated by the lack of preventive measures to protect these vulnerable workers. In this presentation, Deeb-Sossa will use a social constructionist perspective to explore the meaning of "essential worker" by interviewing 30 farmworkers who during the pandemic came to work in a labor market shaped by exploitation and oppression and related unsafe working conditions. Deeb-Sossa argues that these workers, who are considered "essential" but treated as disposable, work under structural racist capitalism and their findings contribute to a better understanding how these Northern California farmworkers perceive being essential under these working conditions.
Spanish interpretation will be provided for this presentation.
---
Acompáñenos en nuestra serie de seminarios mensuales con invitada especial, Dra. Natalia Deeb-Sossa, Profesora de Estudios Chicana/os en la Universidad de California, Davis quien presentará una charla titulada:
"Dizque esenciales pero tratados como desechables": Trabajadores agrícolas del norte de California que trabajan bajo COVID-19.
El lugar de trabajo surgió como un sitio principal de enfermedades infecciosas durante la pandemia de COVID-19 (en curso), especialmente en ocupaciones que tienen poco o ningún distanciamiento social y potencial para el trabajo remoto. La pandemia tuvo un enorme impacto en la salud física y mental de los trabajadores agrícolas y mostró las desigualdades del mercado laboral en Estados Unidos exacerbadas por la falta de medidas preventivas para proteger a estos trabajadores vulnerables. En esta presentación, Deeb-Sossa utilizará una perspectiva construccionista social para explorar el significado de "trabajador esencial" entrevistando a 30 trabajadores agrícolas que durante la pandemia vinieron a trabajar en un mercado laboral moldeado por la explotación y la opresión y las condiciones laborales inseguras relacionadas. Deeb-Sossa sostiene que estos trabajadores, que son considerados "esenciales" pero tratados como desechables, trabajan bajo un capitalismo racista estructural y sus hallazgos contribuyen a una mejor comprensión de cómo estos trabajadores agrícolas del norte de California perciben que son esenciales en estas condiciones laborales.
Habrá interpretación en español para esta presentación.