Congratulations to Our Research Award Winners!
Research Paper Award
The California Heat Illness Prevention Study (CHIPS) received a research paper award at the June 2017 International Society for Agricultural Safety and Health conference held in Logan, Utah.
The study is the first to conduct comprehensive physiological monitoring in Latino farmworkers in the USA and involved a number of WCAHS personnel, including study coordinator Diane Mitchell and WCAHS Founding Director Marc Schenker.
The paper describes how despite the work place restrictions and challenging work conditions, farmworkers from California's Central and Imperial Valley were successfully recruited into the study. Bi-lingual researchers monitored participant's core body temperature with a ingestible heat sensor, heart rate using a chest-strap monitor work rate with an accelerometer, and hydration status by changes in weight and blood osmolality before and after the work shift.
Approximately 10% of the participants had elevated core temperature and dehydration (defined as loss of ≥ 1.5% of morning weight). The WCAHS Outreach team is developing heat illness prevention training materials based on the study findings.
Best Poster For Early Career Researcher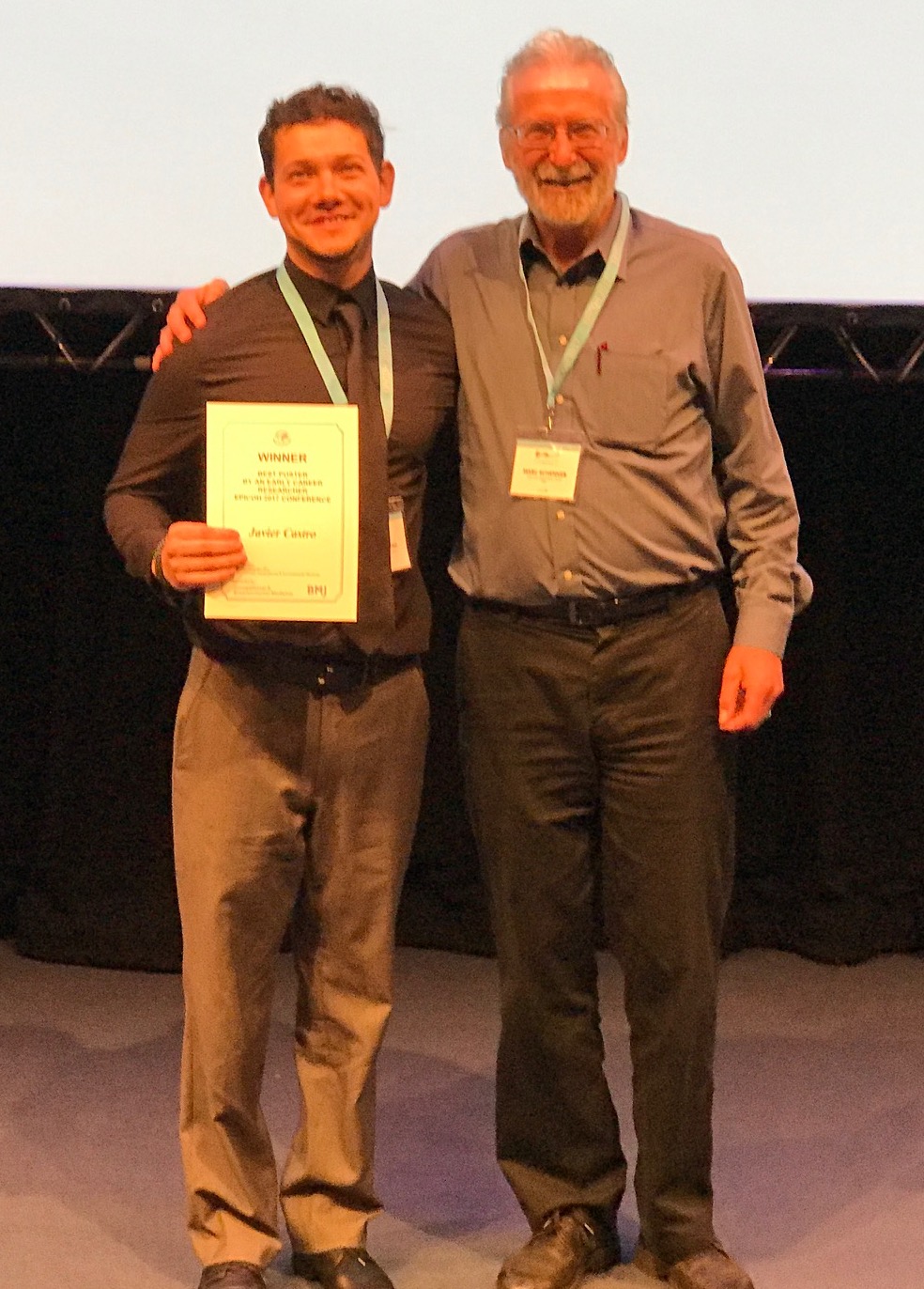 Community Health Program Supervisor Javier Castro won the best poster award by an early career researcher at the 2017 Scientific Committee on Epidemiology in Occupational Health (EPICOH) conference held in Edinburgh, Scotland this past August.
Javier presented new CHIPS data on core body temperature and work task in relation to heat related illness. Farmworkers working moderately or vigorously for more than 90 minutes a day were found to have a higher risk for heat related illness. Irrigators had a higher risk than other tasks.
Javier said, "he was surprised and honored" because, unlike himself, most of the early career attendees were graduate students and post-docs.
A challenge in presenting the work was that many people were European and unfamiliar with the demographics of California farmworkers.
However, Javier, who is applying to medical school and wants to work in occupational medicine, found the conference to be a great opportunity to talk to people and get new perspectives on occupational health research from around the world
Primary Category
Tags