If there is one thing that hasn't changed through the centuries, it's the battle between pests and farmers. Stories of whole crops being decimated in the blink of eye are recorded in every culture.
Today, there are incredible resources to help with this age-old problem, including one housed right here in Davis – the University of California Integrated Pest Management (UC IPM) program. IPM provides scientifically based information on how to effectively deal with pests whether they are natural or exotic or in urban, agricultural, wildland or natural areas.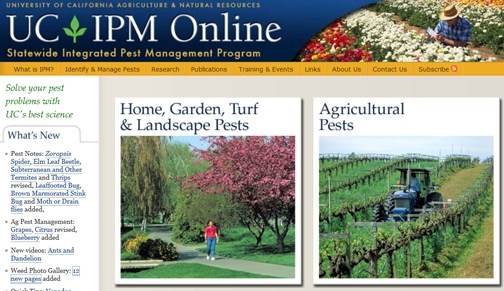 Dr. Jim Farrar, director of UC IPM, recently visited WCAHS and gave a seminar talk on "IPM and Agricultural Worker Safety." Pesticides are extensively used in farming. In 2014 alone, California registered 2.5 million pesticide applications. Agricultural workers are especially vulnerable to getting exposed to pesticides when directly handling them, such as during mixing or spraying, and when walking through fields and encountering pesticide drift in the air and residue on plants.
UC IPM provides both online and instructor led courses on the newest advances in pest management as well as basic safety skills with pesticides. Farrar stressed that continuing pesticide safety education is key to protecting agricultural workers and their families from harm. For example, workers can learn how to correctly use personal protective equipment when applying pesticides to avoid exposure and why it is important to wash work clothes separately from household clothes.
IPM also provides online information on how to deal with common pests found in the home, on our pets and even on us! For example, IPM has advice on managing ants, rats, lice and fleas. Farrar emphasized that while it is often difficult to eliminate pests 100%, they can be actively managed and controlled with the PAMS approach:
             Prevent pests from infesting.
             Avoid conditions that are conducive to pest damage.
             Monitor for pests and properly identify them.
             Suppress pests with appropriate tactics.
The PAMS approach works because it takes the long-term view of controlling pests. You can find detailed tips on how to manage all types of pests at the UC-IPM website.
Tags