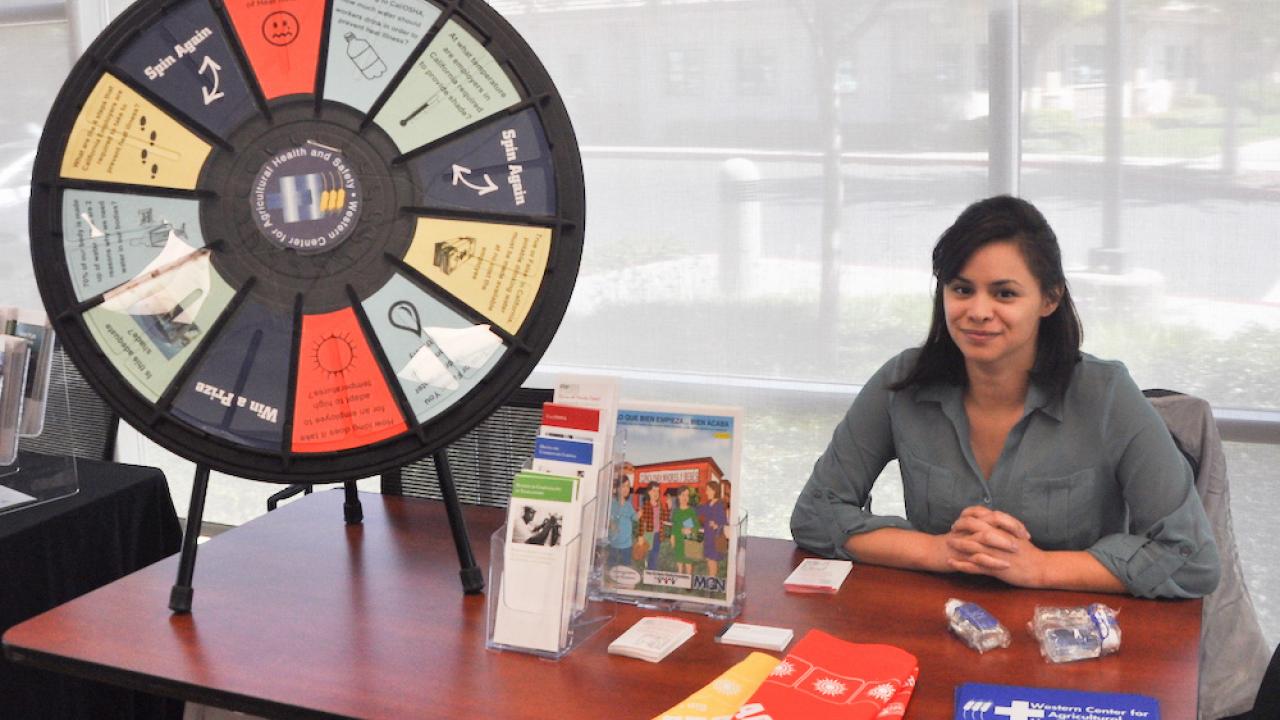 The Mexican Consulate: A safe place for people to learn about heat illness
Throughout my childhood, summer always meant a break from school, swimming and water balloons. For most of us, the hot season brings back fond memories and a sense of fun and relaxation. However, for farmworkers and other outside workers, summer's high temperatures mean being extra vigilant against heat illness.
My co-workers and I have been extra busy educating farmers and farmworkers on how to prevent heat illness as part of our Education and Outreach mission for the Western Center for Agricultural Health and Safety (WCAHS).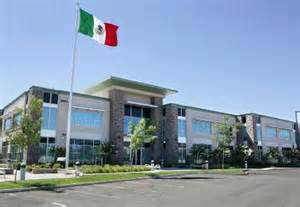 This work includes visiting the Mexican Consulate in Sacramento (Consulado de México en Sacramento) to join the Ventanilla de Salud program in providing information and resources to the Spanish-speaking community.
Building trust is an essential part of our work, and the Mexican Consulate is a location where people who might otherwise feel vulnerable can feel safe. I not only encounter farmworkers there, but also people in other professions, such as construction and road work, who are also at risk of heat illness.
Many outdoor workers are unaware of the symptoms of heat illness or the best way to stay hydrated. Results from the California Heat Illness Prevention Study (CHIPS) that I participated in as a student researcher revealed that some workers unknowingly suffered from acute kidney damage.  Although they had been through heat illness prevention training, we found that did not necessarily mean that the farmworkers remembered what was taught or were willing or able to protect themselves against the heat.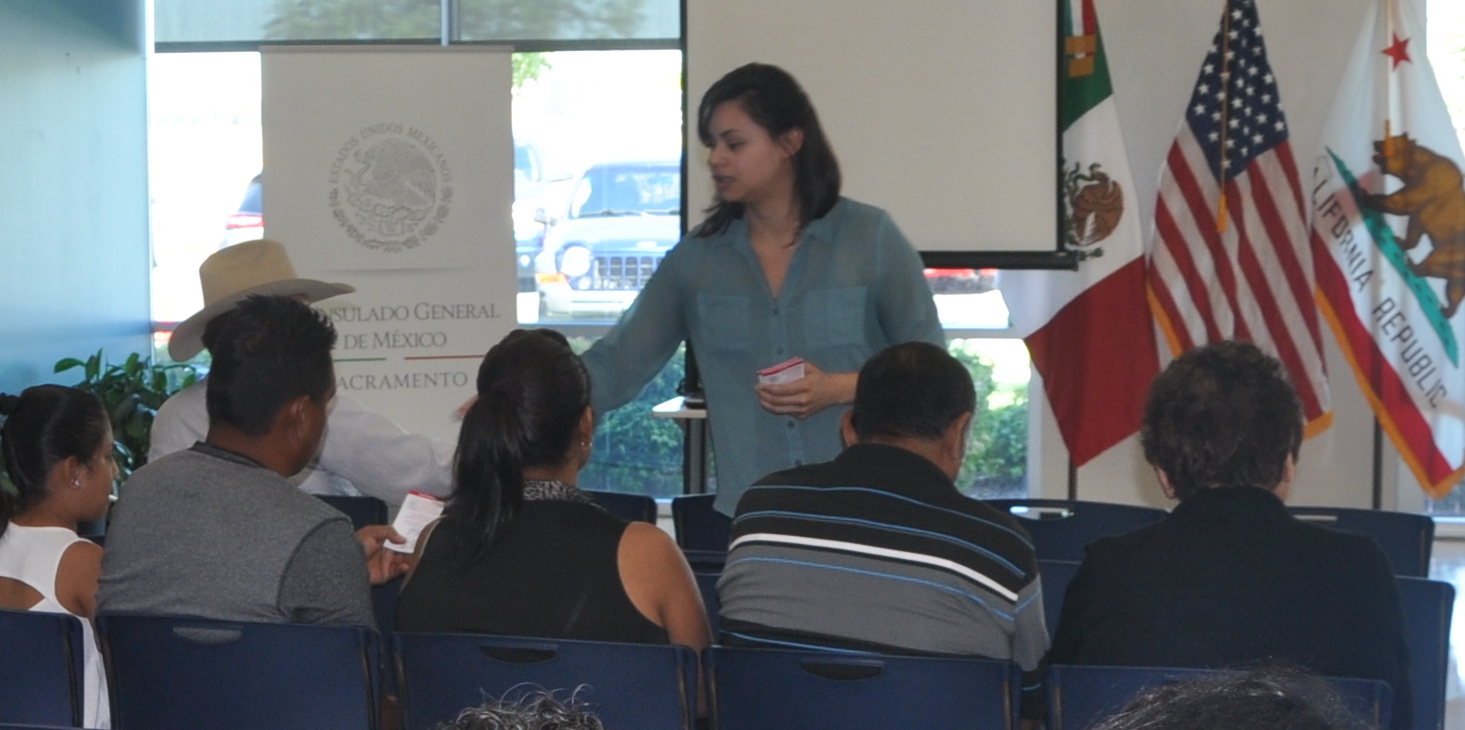 When visiting the Mexican Consulate, I place a colorful roulette wheel with questions that relate to heat illness and pesticide safety on our information table. It always attracts both children and adults. I have found that interacting with children is a great way to disseminate information, and parents often approach me because of them. We also provide information on worker's rights and occupational health.
My favorite part of doing outreach work is being the bridge between the research being done at WCAHS and the community that can benefit from it. It is incredibly rewarding to bring such important information to where it is needed and appreciated.
Many times, when I approach families or individuals at the Mexican Consulate with health information they seem a bit uncertain but by the end of our conversation, they thank me. I am definitely looking forward to visiting the consulate again this summer and hopefully reaching more people than I did last year.
WCAHS Education and Outreach will be at the Mexican Consulate (2093 Arena Boulevard, Sacramento) every Thursday from 9am-11am beginning June 29th, except on the days that we are conducting trainings. We will also participate in most of the health fairs held there. Exact dates can be found on our Events page.If you or someone you know is in need of these types of resources, please stop by or contact us at aghealth@ucdavis.edu!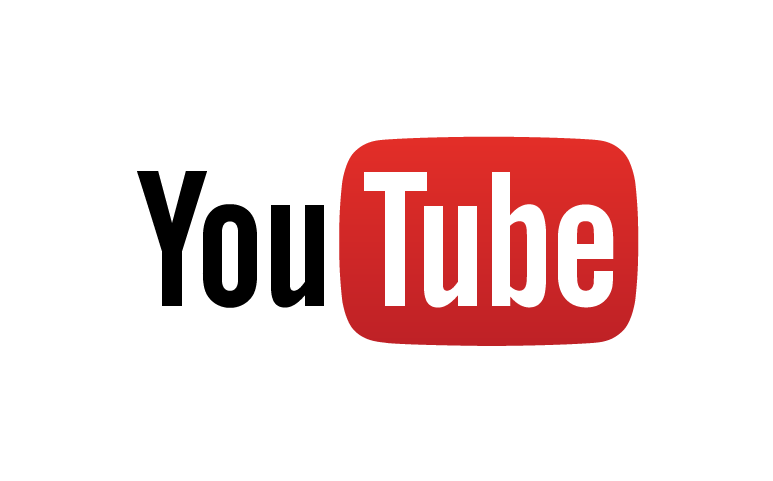 You can also watch four short YouTube videos on heat illness and prevention that I helped produce here. The videos were specifically made for farmworkers to learn about 1) heat and humidity, 2) the importance of water, shade, and rest, 3) symptoms of heat illness, and 4) what to do in an emergency.
Tags