Fighting in the Dirt
For eons farmers have battled two things – pests and the weather. While we still can't control the weather, we can fight pests that target our crops, whether in agricultural fields or our own back yards.
For the past decades, farmers have primarily relied on pesticides, but we now know that many of these chemicals are toxic and pests develop resistance to them. There is a high demand to find effective and safe options to traditional pesticides, especially for organic farming.
Enter WCAHS new investigator, Dr. Chris Simmons, who is working on such an alternative. It's called biosolarization. Think of it this way, biosolarization simply means harvesting the power of biology (bio) plus the sun (sol) to kill pests. Add plastic and compost, and you are ready to roll.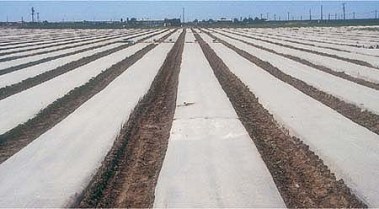 Well, it's not quite that easy. Simmons is specifically studying how to use biosolarization to replace fumigants, toxic gases that are pumped into the ground under the cover of heavy plastic tarps, to kill soil pests before planting. You many have seen this done in fields with rows of plastic. While fumigants work quickly against pests, they are essentially nerve gases that can cause serious injury and even death when inhaled by farmworkers or nearby communities if not used correctly.
In place of adding fumigants to the soil, Simmons adds compost and leftover skins and seeds from grape or tomato processing, wets the soil, and then covers it with plastic tarps to let biosolarization do its work. Heat from the sun becomes trapped under the tarp, encouraging heat-loving bacteria to grow, making the soil more acidic, which along with the high soil temperature helps eliminate pests like weed seeds, insects, worms, and many fungal and bacterial pests. Simmons is optimizing this process (timing, compost to use) for specific California crops grown in the Central and Imperial Valleys.
While the science of biosolarization is still evolving, there is no reason why we can't use its cousin, solarization in our own garden. Solarization is just biosolarization minus the "bio" part – you don't need to add specific compost to the soil. Instead you just tightly cover the heavily wetted soil with plastic during a hot, sunny time of the year. This will trap the heat of the sun to kill garden soil pests. In addition, your soil may become more nutrient rich as the heat breaks down organic matter.
You can do this easy, inexpensive project in a day and be rewarded in 4-6 weeks with a healthier garden.
Solarize Your Garden in 5 Simple Steps
Step 1. Get rid of any dead plants and other debris in your soil by hand picking or raking them away.
Step 2. Smooth the soil surface so that it is level.
Step 3. Water the soil so that it is wet up at least 1 foot deep.
Step 4. Place a clear plastic tarp on top of the soil. Plastic sheeting or plastic "drop cloths" for painting are readily available at hardware stores. Secure the edges of the tarp with soil.
Step 5. Remove the tarp after 4 to 6 weeks­ and begin gardening.
To see a more detailed demonstration of garden bed solarization, check out Alabama Cooperative Extension System Regional Agents James Miles and Mike McQueen in this video.
Tags